GRE Assignment Help
The Graduate Record Examination (GRE) is the most extensive program used to assess admissions of graduate students, especially those who pursue PhD, masters and MBA. The Educational Teaching Service own and conduct the exams. It is a standardized test required for admission in many graduate schools in the Us and Canada. The test analyses a candidate analytical writing, verbal reasoning skills and quantitative ability. Majority of students take GRE because these scores are accepted in a large number of universities across the globe.
Preparations To Make Before Application
Candidates from all age groups and academic qualifications can register for GREs. However, all candidates must be graduates from recognized universities.  Candidates can register or book for the exams through phones, mails, fax or online. The information provided on the ETS application should match a candidate's passport. Also, the name should match with that on the passport because the authority can deny the applicant permission to get into the testing area. 
The applicant should confirm the testing kit available in his area and confirm whether he/she is comfortable with it or not. ETS has test policies and regulations which a candidate read before registration of exams takes place.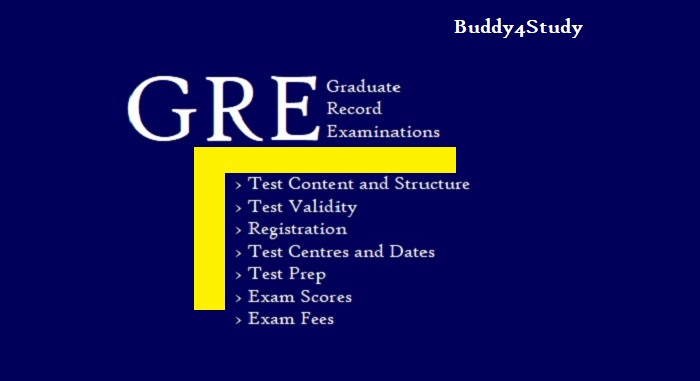 What Does the Graduate Record Examination Tests Entail?
GRE test consists of, the subject test and the general test, which usually takes 3hours and 45 minutes. They evaluate a candidate's quantitative ability, verbal reasoning and analytical writing.   
Verbal tests evaluation
The verbal section determines vocabulary usage, comprehension reading and critical reasoning with 20 questions to be done in 30 minutes. The article analyses the ability of a candidate to understand words in a sentence, draw conclusions, and distinguish between relevant and irrelevant points in a sentence.
Quantitative section assesses reasoning skills and basic mathematical knowledge of 20 questions with 35 minutes duration. The analytical writing section consists of two essays, an "argument task" and an " issue task". The ETS design the word processing program with only essential functions of a computer, no spell check or other computer advanced features. The candidates take 30 minutes to complete the essay. 
Analytical writing evaluates analytical writing and critical thinking capacity of the applicant. It tests on how a candidate can effectively provide adequate support on complex ideas.
Subject Test Evaluation
Subject tests evaluate the candidate knowledge on a particular subject. The topics covered include literature, physics, biology, mathematics, biochemistry and chemistry. Generally, the tests are essential for the selection of the candidates for admissions in specialized courses.  Computerized general tests are available throughout the year while paper-delivered tests are available two times a year. Paper tests are mostly administered in locations where computer-delivered test is not possible.
How much does a GRE test cost?
GRE application fee is 205 dollars throughout the world while the cost of the subjects is 150 dollars. Applicants incur extra charges when they reschedule the tests or change the centre of their examination. Candidates have a period of 4days before the actual date of the exams, to cancel otherwise, they lose their money. They pay 50 dollars for rescheduling their tests while a change of a subject costs them 50 dollars. It is not rare to find some candidates requesting additional services like late registration fee and standby testing, which they have to pay extra fees.
Preparations to Make Before a Graduate Record Examination Test
A candidate needs to prepare in advance for the exams in the two months duration left before the set date of the reviews.  General methods of practice include;
Power Prep test, which is a free overview tool accessible through ETS account. It contains information on the type, the structure of the questions to expect and the materials which come in on the test day.
Score it now, which is an online practice. It provides essays and scoring is rated using e-rater technology. Two writing topics are available and an additional six after that.
A candidate can also download flashcards online as they are convenient when a candidate has a few minutes of study.
Taking a class can be the best option for a candidate who cannot obey his schedule plan alone without supervision. Expert instructors and following a set schedule can help a candidate to stay focused on the study, which can also be motivating.
GRE provides prep books which may structure the studying programme of a candidate as it contains six practice tests, testing strategies, content review and summaries of personal performance.
Practice question available in Adaptive GRE Qbank helps a candidate on adjusting their skills which assist in saving time on targeted items .This plan contains in-depth explanations which assist applicants in raising their score by learning from the mistakes they make.
A candidate can also use an online calendar which can help in accessing personal study plan from anywhere and keeping its track record. The candidate can share the schedule with friends who can assist a candidate in staying on track by reminding him/her continuously.
Proper preparation for the exam is essential because the review takes at most 4hours and can be like a marathon race for the brain. A candidate should focus on getting a good night sleep, well-fed and proper relaxation a night before the exam. He/ she should prepare the materials required in the exam room which include personal ID and admission ticket, three HB pencils and good quality eraser.
Graduate Record Examination Results and Scores
 The scoring pattern of the GRE is available on their official website where a candidate visits to familiarize with the scores. The score range of verbal reasoning ranges from 130 to 170, with a mean score of 150. Analytical writing has a score range of 0-6 with a mean score of 3.6, while quantitative reasoning has a mean score of 130-170 with a mean score of 152. Generally, a candidate should have a total score of 260-340, which has a validity of five years from the date of the exam. Applicants should visit the GRE website to learn about the average rating of different universities, although most of them don't have minimum requirement entry points for admission. Mostly entry requirement depends on the nature of the discipline. 
Exam Pattern of the GRE
Computerised exams take place throughout the year in Prometric testing centres and on specific dates on other selected areas. Paper delivered tests takes place on particular dates, at specific centres only. Busy periods of testing results into the centres filling in advance, and therefore the GRE operate on a first-come, first-served basis as they lack enough seats during this periods.Candidates should apply on an earlier date to allow ETS, enough time for processing the scores and sending them to specific institutions the candidate will be using. This process takes 10 to 15 days. Computerised exams come after every 21days which add up to five times in a year. Candidates register for the reviews online via ETS.
Conclusion
Applicants from business school and graduates all over the world can take the GRE test because the score is essential when applying for a position in a graduate school. However, it is not the only significant part because ETS consider other factors like letters of recommendation, interviews, personal statements, under graduate GPA, work and research experience. Other programs also consider GRE Subject Test scores.