How to Write a Term Paper | best 2021
How to write a term paper. Writing a well thought out term paper requires time to research, collect data, and analyze. A student will be asked at least once in their academic career path to write a term paper. The term paper assignment is highly tested by instructors, to discover which students understood and researched on the paper. Even the best writers acknowledge that the term paper writing process is stressful and time-demanding. It is because writing a noteworthy term paper requires skills and creativity for one to deliver a top-notch paper.
How to Write a Successful Term Paper
If you are looking to master the concept of how to write a term paper, then here are the steps you need to follow;
When students are given the mandate to choose their topics by their professors, most of them think it is as easy as ABC. However, they end failing, with their topic selection being categorized as weak. Topic selection is an excellent opportunity for a student to show their creativity.
The mandate of choice can be a great advantage if you pick a theme that is well known to you. It is always advisable for a student to visit the library near them to research how to select a question. In addition to visiting the library, students can also seek the online help of expert term paper writers. They offer ideal homework assist services. To also come up with exciting topics, students can also brainstorm or read articles and news.
How to Write a Term Paper
2.    Research
The research process is tricky. If one does not use credible sources to research, they will end up having inaccurate information. An analysis is also critical to help the writer understand the background of the subject of interest. Understanding the context of the given topic will help you know how to approach the problem, and what to look for as you develop the research questions of the issues. The research resources one can use include books, films, periodicals, magazines, news, journals, and online platforms.
How to Write a Term Paper
3.    Make an outline
Term paper writing can be complicated if one has no draft. Hence, begin by creating an overview of both the structure and the content to include in your piece. The blueprint helps a student to focus on the primary points in the writing process, rather than weak points. Similarly, the term paper outline also helps a student have flow in their paper, which is an essential element in writing. Avoid creating a draft in the last minute since you will only include what you think the instructor wants rather than what the research question requires of you.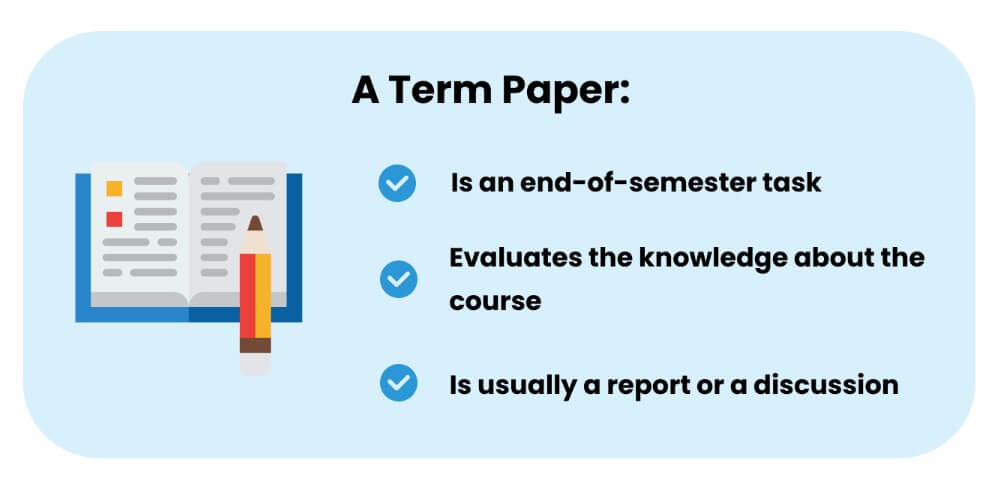 How to Write a Term Paper
4.    Write and proofread your term paper
 After writing a well-researched and structured term paper, go back and read it through to edit it. Read paragraph per paragraph, looking at errors that may be present. The errors could be grammatical mistakes, repetition, transitioning errors, or lack of flow. A student can always tell their friend to go through it and correct their work. Doing this will help you submit an error-free and high-quality paper.
How to Write a Term Paper
Save time and excel in your essays and homework. Hire an essay writer for the best price for the top-notch grade you deserve.