University Success Strategies|2021
The following is a list of 12 university success strategies that can help you succeed in your classes.
1) Take notes in class to help you pay attention and give yourself something to refer back to.
2) Write down what the instructor emphasizes, because it will likely show up on tests. However, don't just write down everything the instructor says. Listening and taking notes is a skill that takes time to master.
3) Study daily and review your notes before tests.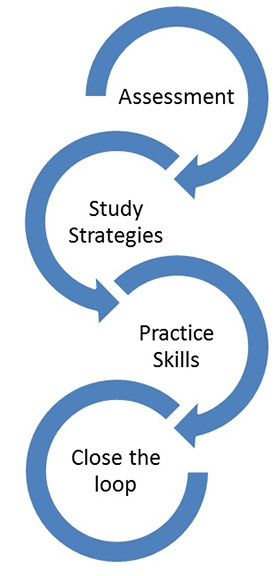 4) Get enough sleep and eat healthy foods to help you stay focused in class. Also avoid watching TV, playing video games or surfing the Internet during study periods. Save non-academic activities for outside of class.
5) Organize your life by keeping a planner and writing everything down so you won't forget assignments or events.
6) Skipping class is a bad habit that can lead to failing grades because it's important to be in class to learn the material presented by the instructor. This also applies to going to classes unprepared.
7) Ask questions in class and get to know the instructor so you feel comfortable asking for help when needed.
8) Don't be afraid to ask for help from other students or your professors after class, during office hours or by appointment.
9) Prepare for tests by studying regularly and doing all assigned readings before lectures. Also try solving practice problems before the real thing.
10) Record lectures using a digital recorder, an audio recorder or your cell phone. This is good for several reasons, including reviewing material and organizing lecture notes with other information if you miss class for some reason.
11) Be prepared to write tests by reading the course outline at the beginning of classes. Also review all assigned readings and note topics that might show up on tests. Don't forget to study your notes too!
12) Form alliances with classmates by asking questions in class or making additional comments during discussions. This will help you learn more material, form study groups and get more out of the course. At gis homework, we can guide you until you succeed.
These 12 techniques can help students succeed in both large and small classes, but they are most important in larger lecture halls.
University Success Strategies
They are especially helpful if you happen to have a difficult instructor or one with poor pronunciation.
Making connections with other students is also good for dealing with challenging professors because you can all ask the same questions to get different answers.
For example, if an instructor says you can't take a book out of the library because another student has it, and you've already returned your copy, but all three students have different answers, something is wrong.
Always get a second opinion when you're confused about an instructor's instructions or comments in class.
However, don't overdo asking for help from other students because this can make you seem like a nuisance.
When it comes to professors, treat them with respect and they'll be more willing to give you the help you need.
If you're really struggling in a class or don't feel confident about your ability to succeed, ask for help sooner rather than later.
Don't hesitate and regret not speaking up when it's too late.
You should always use any study aids or other resources available to you, such as online courses or textbooks in different formats.
If there are free videos for the course on YouTube, watch them because they can reinforce what you're learning in class and explain concepts at your own pace.
When all else fails, there are tutors available to help you.
This includes not only paid tutors but also peers in your class who may have an easier time understanding the material because they've already taken the course or have a good relationship with the instructor.
If you're having problems in one class, it may be wise to talk to someone before moving on to another course as this instructor may have answers that can help you with the second class too.
These strategies are typically most effective when used throughout your academic career, not just for one course or semester.
However, they're also great to keep in mind as you prepare for a specific test within a few days or weeks.