Who is important between family and friends?
Who is important between family and friends? It goes without much thought that people who you share blood with are more important than friends are. While we cannot disregard the value of friendship and some of the best experiences shared with friends, we cannot rule out the fact that the family bonds remain stronger. Apart from sharing a similar bloodline, people from one family also share genes that make them tied together for life.
            There are many reasons why family takes the first place as compared to friendship. To start with, the type of emotional, physical and spiritual support offered in a family set up cannot be found in friends. Though some accomplice stick closer than family at times, people from a family still remain the best support system. This is especially in times of hardships. It is easy for friends to walk away when challenges arise and seem unending but family members have no option but to stick to the end.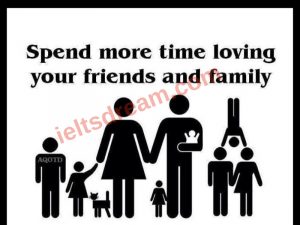 In an instance where an individual for example is sentenced to life imprisonment for a crime they committed. Friends may visit him in jail for the first few months then give up and stop visiting him. However family will keep visiting many years later, offering encouragement and support. It is almost impossible to separate family bonds. Despite the fact that families as friendships have challenges that can force people to walk away, the bond between family members' remains and is not easily forgotten. The memories created from childhood, teenage years to adulthood are timeless, all stored in a family unit. Friends only learn what they see at that stage of life.
Conclusion           
In conclusion, between family and friends, individuals one share bloodline with are more important than friends are. The bloodline that people from one family share runs thicker than any friendship will ever go.  This therefore proves that family will always win.
contact us for any assignment help